Bifunctional Molecules
Synthesis, Analysis, Purification and DMPK
We have 900+ chemists with considerable experiences in the linkers, E3 ligase ligand and target protein ligand synthesis since 2016
>60 clients/collaborations
>50 methods of Prep-HPLC and chiral-SFC for purification
Efficient in-vitro/in-vivo testing by WuXi DMPK
Experienced in versatile linkers synthesis, 100+ are readily available
Novel linker synthesis by high productivity, quality, speed, and reliability PROTAC ®1 Platform
Experienced in CRBN/VHL/IAP/MDM2 and novel E3 ligase ligands synthesis, >30 CRBN/VHL ligands are readily available
30 series of target protein ligands coupled with various linkers
Traditional FFS
From mg to hundreds of kg
> 20,000 compounds synthesized
> 90% on-time delivery
Library
> 100 libraries finished
1~5 step parallel synthesis
2~4 weeks of turn-around time
Readily available, in stock collection of linkers and E3 ligands
A modular platform: More efficient synthesis of bifunctional molecules
Customized synthesis : From mg scale to 200+ kg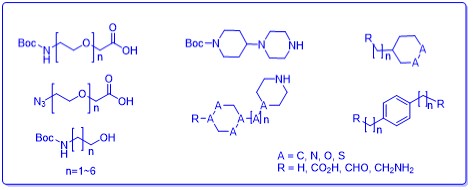 Linkers: Most frequently used linkers, e.g. PEG, alkyl, "clickable", and rigid linkers
In-stock compounds: More than 350 in-stock linkers or E3 ligase ligands based on literatures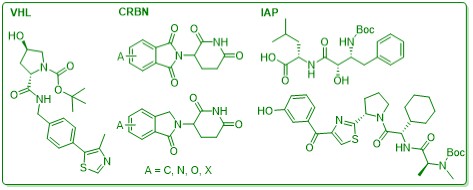 E3 ligase ligands: Common ligands in stock readily available, e.g. VHL, CRBN, cIAP, etc
---
Biochemical and Biophysics assays
WuXi AppTec biology, chemistry and structural biology platforms provide comprehensive solutions to support protein degradation drug discovery research.
Biochemical and cellular assays
Biophysics assays for kinetics/affinity characterization
Various assay formats with capability to run both end-point and real-time kinetic analysis in high throughput format
Biochemical assays
Binding/displacement
Purified protein
Labeled ligand/antibodies
Assay formats: FP, FRET or AlphaLISA
Biophysical assays
Kinetic binding of bifunctional molecules-target binary complex
Kinetic binding of ternary complex
Cooperativity
Assay format: SPR and ITC
Cellular assay
Binary ligand binding (Target engagement and permeability studies)
Ternary complex detection (NanoBRET assay in cell and in lysate)
End point assays: HCS and WB
Binary/Ternary Complex Formation Assay Platform
Binary/ternary binding assays at formats on TR-FRET, AlphaScreen, Fluorescence Polarization (FP), radioactive assays, etc.
Biophysics approach with SPR (Biacore 8K+) and thermo shift assays SPR assay measures the kinetics of binary/ternary complex formation and provides rationale for preferred-ternary-complex-formation in bifunctional molecules design and optimization.
1 PROTAC® is a registered trademark of Arvinas Operations, Inc., and is used under license