Virtual screening identifies hits from extensive chemical space
Virtual screening (VS) is a computational technique used in drug discovery to search real or virtual libraries of small molecules in order to identify potential hit candidates.
Search against large chemical space (from millions to billions)
Efficient screening with high success rate
Integrated services to provide rational starting point for Hit Identification, Lead Optimization and Medicinal Chemistry
Reduce real laboratory experiments and accelerating the drug discovery process in a more efficient and economical way
3.4Bn compound 'make-on-demand' library provides rapid access to real samples, shipped in 4-6 weeks with successful rate of up to 80%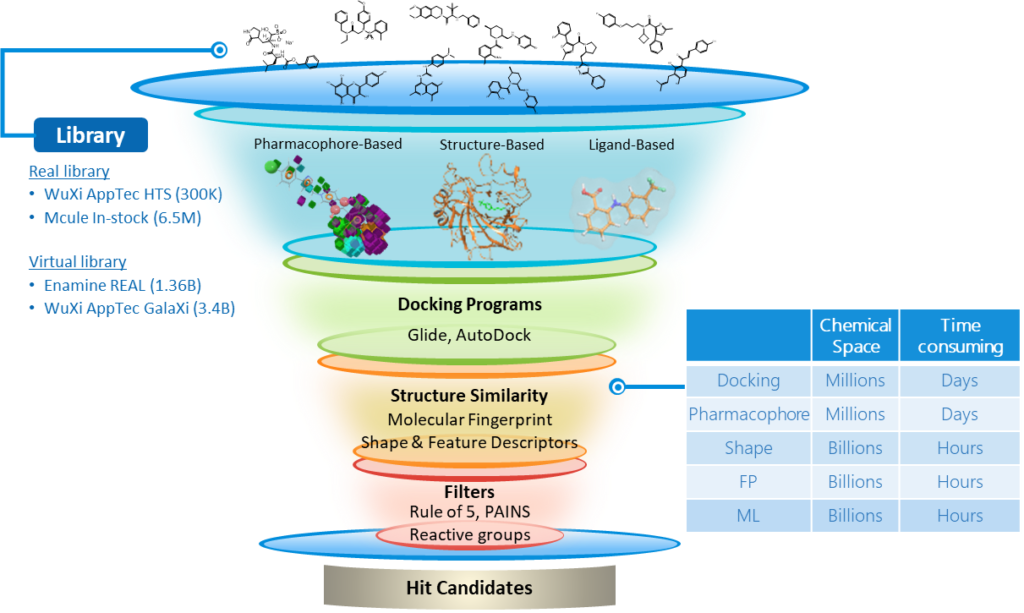 Virtual Library
WuXi AppTec offers access to virtual chemical spaces built from our library of novel drug-like scaffolds. Due to carefully selected building block supply and proven chemistry, these libraries consist of molecules that can be quickly synthesized on demand.
Core-Based Library
Create reaction scheme for interested molecular scaffold (core)
Identify/search available building block sets for reaction scheme
Enumerate compounds for reaction scheme of each scaffold
Create diverse compound set to form core-based focused library
Synthetically Feasible Virtual Library
The library covers rigorously validated chemical space of over 200 million virtual compounds based on optimized one-step/one-pot reactions. It is a combination of WuXi AppTec's chemistry expertise and cutting edge software technologies, resulting in a chemical space over 200 million virtual molecules that can be mined and synthesized within a few weeks.
GalaXi (WuXi AppTec & BioSolveIT) – Virtual Space Design
Billions of accessible small molecules search with vHTS or with BioSolveIT Infinisee
---
Machine learning empowered virtual high-throughput screening
Advances in ML-empowered vHTS is allows us to access a rapidly expanding and diverse chemical space, to discover potent novel molecules with accelerated timeline and reduced cost.
Key features of ML-empowered vHTS platform:
Vastly expand the chemical space that is limited by real compound collections

Ability to process large chemical spaces (from millions to billions)
In silico screening with on-the-fly enumeration and make-on-demand virtual libraries

Reduce real laboratory experiments and transform drug discovery in a more efficient and economical way

Provide rational starting points for integrated services
Evaluate target binding with high success rate of activity
vHTS trained ML models can create generative designs to expedite hit-to-lead and lead optimization
---
Using output from hit-finding campaigns or other existing data, ML-empowered vHTS has shown to identify diverse, drug-like and easily-synthesizable molecules that are different from the original screening libraries or datasets
Predict phenotypic activities to discover novel antibiotics
Deep neural network to predict antibiotic activity in molecules that are structurally different from existing antibiotics
Compound demonstrated efficacy in mice infection model2
---