Oncolytic Viruses Platform
Oncolytic virus (OV) therapy is emerging as a promising approach for the treatment of cancers. The functional mechanisms of OV include specific lysis of tumor cells and stimulation of host immune responses. Oncolytic viruses can selectively infect and replicate in tumor cells, resulting in the lysing of these cells and release of progeny viruses which can subsequently infect neighboring tumor cells. Oncolytic viruses can also trigger host immune responses to attack tumor cells. The combination of OVs with other therapeutic agents have shown enhanced efficacy against tumors.
From Discovery to Clinical Support: Oncolytic virus engineering and production, evaluation of tumor selectivity of OVs, and evaluation of molecular variants
We provide a comprehensive, end-to-end platform including various in vitro assays and in vivo models to support discovery and development of oncolytic virus agents for the treatment of tumors.
Viruses
Adenovirus
Herpes simplex virus
Vaccinia virus
Reovirus
In vitro tumor cell lysis and immune assays
Virus specificity
Co-culture for immune cytotoxicity analysis
Lysis activity
Safety assays
Immunological assays
In vivo pharmacology
Syngeneic and humanized models
Efficacy studies
Combination therapy
Biomarkers
---
In Vitro Assays
Titration of virus by plaque, TCID50, and qPCR assays
Assessment of exogenous gene expression by flow cytometry, ELISA or MSD
Study of virus specificity with selectivity and lysis function against tumor cells
OV-related immunogenicity includes both anti-virus and anti-transgene
OV-related immune cell activation and cytokine release using T cells, NK cells and monocyte-derived dendritic cells
Assessment of biosafety
Oncology cell panel screening of VACV (top) and VSV (bottom) against different cancer cell lines at various MOI, for screening viral sensitive cell lines.
In vivo services
Extensive portfolio of validated murine CDX and syngeneic models using both adenovirus-based and herpes virus-based OVs
Study of efficacy and combination activity of OVs using CDX and syngeneic rodent models
Analysis of biodistribution
Assessment of viral shedding
Immunogenicity and immunotoxicity evaluation
Profiling of infiltrating immune cells
Toxicology and safety studies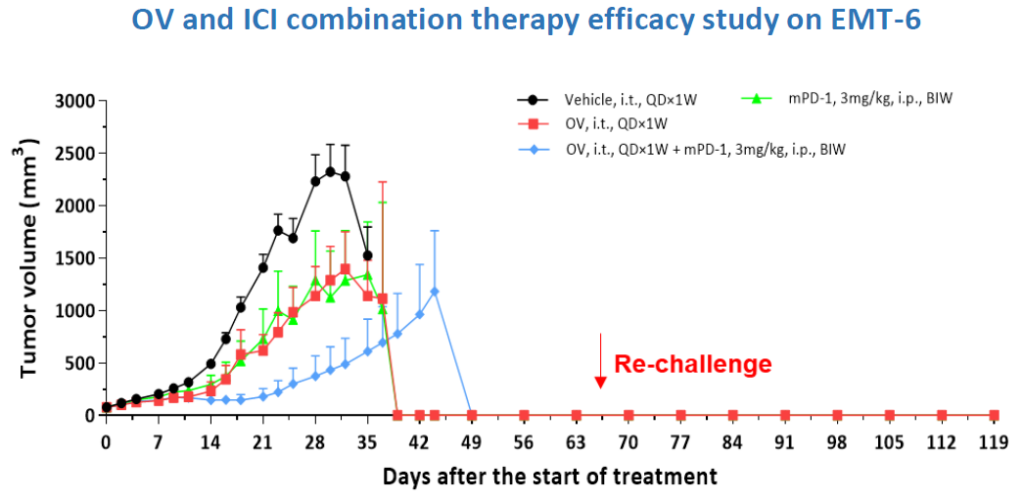 Bio-distribution and viral shedding assays